Elon Musk Says Tesla Vehicles Will Drive Themselves in Two Years
Musk opens up about autonomous vehicles, self-driving car rules, and the competition.
By Kirsten Korosec | Fortune
In Elon Musk's world, "easy" is used to describe problems many might consider impossible - or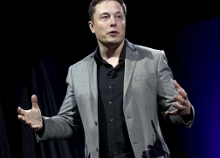 at least very difficult to solve. Producing a fully autonomous vehicle that can operate in any condition and on any road, for example, is easy-ish. And Tesla Motors, the all-electric automaker that Musk heads, is two years away from achieving it.

"I think we have all the pieces, and it's just about refining those pieces, putting them in place, and making sure they work across a huge number of environments—and then we're done," Musk told Fortune with assuredness during his commute to SpaceX headquarters in Hawthorne, Calif., where he is also CEO. "It's a much easier problem than people think it is. But it's not like George Hotz, a one-guy-and-three-months problem. You know, it's more like, thousands of people for two years." Read More
How Do You Spot A Nonconformist?
You Can Start With Their Internet Browser!
By NPR | www.npr.org

In 2009, one of the founders of the online eyeglass maker Warby Parker approached management consultant Adam Grant about becoming an early investor. Grant says he declined because the company's founders weren't working at their startup full time; he also says it was the worst financial decision he's ever made. Read More
They're all bought and sold: American democracy belongs to the billionaires now
With the lone exception of Bernie Sanders, every candidate is either in bed with Wall Street or super-rich himself
By Nomi Prins | TomDispatch.com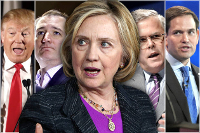 Speaking of the need for citizen participation in our national politics in his final State of the Union address, President Obama said, "Our brand of democracy is hard." A more accurate characterization might have been: "Our brand of democracy is cold hard cash."
Cash, mountains of it, is increasingly the necessary tool for presidential candidates. Several Powerball jackpots could already be fueled from the billions of dollars in contributions in play in election 2016. When considering the present donation season, however, the devil lies in the details, which is why the details follow. Read More
There May Soon Be More Plastic in the Oceans Than Fish
The environmental impact of plastic waste is already staggering and getting much worse
By Gregory Barber | MotherJones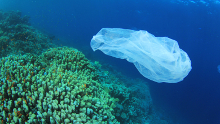 Discarded plastic will outweigh fish in the world's oceans by 2050, according to a report from the Ellen MacArthur Foundation. That is, unless overfishing moves the date up sooner.

The study, a collaboration with the World Economic Forum, found that 32 percent of plastic packaging escapes waste collection systems, gets into waterways, and is eventually deposited in the oceans. That percentage is expected to increase in coming years, given that the fastest growth in plastic production is expected to occur in "high leakage" markets—developing countries where sanitation systems are often unreliable. The data used in the report comes from a review of more than 200 studies and interviews with 180 experts. Read More
Noam Chomsky Says GOP Is 'Literally A Serious Danger To Human Survival'
The MIT professor and noted author said "strategic voting" can keep Republican candidates away from the levers of power.
By Matt Ferner | The Huffington Post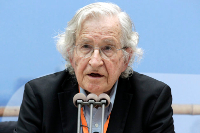 Noam Chomsky, the noted radical and MIT professor emeritus, said the Republican Party has become so extreme in its rhetoric and policies that it poses a "serious danger to human survival."

"Today, the Republican Party has drifted off the rails," Chomsky, a frequent critic of both parties, said in an interview Monday with The Huffington Post. "It's become what the respected conservative political analysts Thomas Mann and Norman Ornstein call 'a radical insurgency' that has pretty much abandoned parliamentary politics." Read More
Forbes Site, After Begging You To Turn Off Adblocker, Serves Up A Steaming Pile Of Malware 'Ads'
Forbes is joining the ranks of sites that were attempting to hold their content hostage over people's use of adblockers
from Techdirt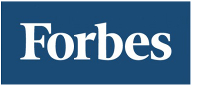 We had just discussed a couple of websites, Forbes amongst them, joining the ranks of sites that were attempting to hold their content hostage over people's use of adblockers. The general point of that post was that the reason people use adblockers generally is that sites like Forbes serve up annoying, irritating, horrible ads, such that the question of whether the site's content is worth the hassle of enduring those ads becomes a legitimate one. The moment that question becomes relevant, it should be obvious that the problem is the ad inventory and not the adblocking software. Read More
Donald Trump talks at a fourth-grade level. Maybe that's why the Fox News audience loves him
The culture of anti-intellectualism in America is fueling hateful, racist demagogues -- in politics and on TV
By Phil Torres | Salon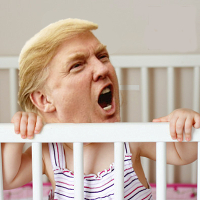 It's a cliché to say that democratic states can't function properly without an informed electorate. But it's absolutely true. And this is why, heading into the 2016 election year, I'm nervous about the future. With Donald Trump leading the Republican presidential contenders, even many Republican die-hards are shaking in their boots.

But Trump isn't the cause, just the symptom. The deeper cause is a strain of anti-intellectualism that runs through the roots of American culture. And while this strain is found on both sides of the political spectrum (see some liberals on vaccines and chemtrails), it's mostly concentrated among religious conservatives on the political right. For those who espouse anti-intellectualism, conspiracy theories have the same clout as legitimate science, the opinions of non-experts are just as credible as those of the experts, and ideology takes precedence over the cold hard facts. Read More
Getting to the Heart of David Letterman
The beloved king of comedy—and part time Montana resident—talks about growing up and getting older.
By Brian Schott | The Whitefish Review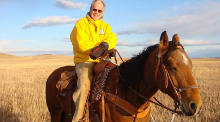 As of his final Late Show this past May, David Letterman had hosted 19,932 guest appearances on 6,028 broadcasts across more than 33 years—and redefined late-night and humor itself along the way. The man had earned some peace and quiet. Judging from the searching, thoughtful interview he granted to the Whitefish Review, he has found both—thanks, in large part, to life on his ranch in northwest Montana.

In an interview with Jane Pauley prior to his retirement, Letterman talked about the "white-hot adrenaline" he'd felt on his early appearances on The Tonight Show with Johnny Carson: "It's like you're sitting on the knee of the Lincoln Memorial and Lincoln is talking to you. You know, it's like, 'Holy God, it's the guy on the $5 bill talking to me.'" That's about what it feels like to interview David Letterman. Read More
UFO truthers want to make Roswell an issue for 2016. Meet their lobbyist.
Stephen Bassett was determined to be the first lobbyist for the UFO disclosure cause in Washington. Nineteen years later, he's still the only one — but he is more optimistic than ever
By Ben Terris | The Washington Post
One day nearly 20 years ago, Stephen Bassett realized UFO abductees needed a lobbyist.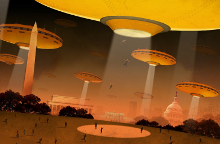 He had spent four months working for the Program for Extraordinary Experience Research out of a modest townhouse in Cambridge, Mass., when he had the epiphany: He could continue his research with John Mack, the leading authority on the alien abductions, for the rest of his life — but it would never make a difference.

"It occurred to me that it wasn't a scientific problem, but a political one," he said. They could pile evidence of extraterrestrial encounters from the White House lawn to the moon, and no one would pay it any mind. What the issue needed was someone who could get the powers that be to listen. Read More
Fox News, liberal-baiting and the politics of populist fear: Here's where it all began
The roots of our modern nightmarish politics can be found in Ronald Reagan and Richard Nixon's early campaign
By Kathryn S. Olmsted | Salon
Excerpted from "Right Out of California: The 1930s and the Big Business Roots of Modern Conservatism"
Tricky Dick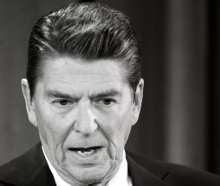 In early 1946, in Orange County, an area that would become a hotbed of right-wing activism, a group of businessmen launched a search for a charismatic candidate who would represent their interests in Congress. The manager of a local Bank of America branch suggested Richard Nixon, a lawyer and Navy veteran. Hoover and his son Herbert Jr. traveled to Pasadena to meet this promising young man and urge him to run for the House of Representatives. Nixon would always remember the meeting fondly and revere the former president for his role in jump-starting his career. Read More
10 right-wing conspiracy theories that have slowly invaded American politics
Paranoia is in our bloodstream. And with the emergence of social media, we're more misinformed than ever before
Mark Potok and Don Terry, Southern Poverty Law Center

This article was originally published by The Southern Poverty Law Center. https://www.splcenter.org/
The Southern Poverty Law Center "There is nothing makes a man suspect much, more than to know little." FRANCIS BACON, Of Suspicion, 1625
America, as the historian Richard Hofstadter famously noted in 1964, is a place peculiarly given to "the paranoid style" of politics — the idea that history is no accident, but rather the outcome of a series of conspiracies. The surface of events is never what it appears, but instead hides deep, dark and destructive forces. Read More
It took me two hours to get my hands on an AK-47. Welcome to America
I wondered if people planning mass shootings found it just as easy to get their hands on illegal weapons on the black market
By Eric Rodriguez | The Guardian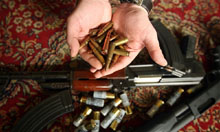 It's not hard to get your hands on illegal guns and rifles in America. It took me about two hours. I called a guy from the old neighborhood in LA, said something about a "piece", and, hours later, I was staring at an AK-47 and an illegally modified AR-15, which were sitting on a kitchen table. Welcome to America.

Admittedly, he was surprised at my interest in being strapped since it's been a good minute since I was about the life, but when I explained I was simply curious to see how long it'd take for me to get a gat, he agreed to the idea. He had some handguns, too, he said, although I didn't see 'em. I took his word for it after seeing the AK-47 and AR-15, because those weapons leave an impression. Read More
God is not on our side: The religious right's big lie about the founding of America
Reagan and others pushed the idea that we're a Christian nation chosen by divine providence. That's not the case
By Steven K. Green | Salon
Excerpted from "Inventing a Christian America: The Myth of the Religious Founding"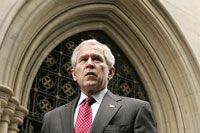 One of the more popular and enduring accounts of America's past is that of its religious founding. Belief that the British-American colonies were settled largely by religiously devout people in search of spiritual freedom, that the United States government was founded in part on religious principles, that the Founders intended to create a "Christian nation," and that America is a specially chosen nation whose success has been directed by divine providence has resonated in the national psyche for generations. Versions of this account have existed since the founding era and have persisted through times of national distress, trial, and triumph. They represent a leading theme in our nation's historical narrative, frequently intertwined with expressions of patriotism and American exceptionalism. Read More
The Charleston Tipping Point For White America
By Rev. Dr. Martin Otto Zimmann | Gettysburg, Pennsylvania
If you have yet to see Jon Stewart's opening monologue on June 18 th , please do so now. Our nation's court jester is the one who managed to place the Charleston terrorist attack in proper perspective, and I applaud him for it. We white Americans should be deeply troubled by his words.

I live in Gettysburg, Pennsylvania. My wife works and teaches at the Lutheran seminary here.We moved here after serving a Lutheran church in Jerusalem. The parallels between what I witnessed in Jerusalem and what I see here are astonishing. Read More
Ten Facts You May Not Know About The Federal Budget
The fiscal year for 2014 ended on September 30th. With the release of the end-of-year totals for fiscal year 2014, below are 10 facts you may not know about the federal budget.
By Senate Budget Committee; Patty Murray, Chairman
1) Overall federal spending has been flat for five straight years, for the first time since the end of World War II.

When measured in simple, raw dollars, spending has historically risen year to year. This is not surprising given that the size of the population and the cost of living (inflation) both increase from year to year. However, from 2009 to 2014, spending was largely unchanged at $3.5 trillion per year. The last time spending did not rise over a five year period, even in nominal dollars, was during the post-World War II phase down from 1946 to 1951. Read More

One man alone can be pretty dumb sometimes, but for real bona fide stupidity nothing beats teamwork.
- Mark Twain

Don't forget - it's all Obama's fault.
- Fox News

Lead, follow or get out of the way.
- Thomas Paine

It's not 1955 anymore and it never will be again. Get your heads out of the sand and let's move forward!
lairdslair webcam
Road predictions for 2050: The end of gasoline, traffic deaths and gear heads
In 2050, self-driving cars will be the kings of the road
By Warren Brown | The Washington Post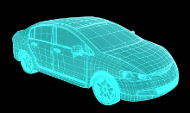 The story is set in 2050, the actual year when Toyota Motor Co., now the world's largest automobile manufacturer, plans to stop producing cars with gasoline engines. Toyota announced its plans to abandon gasoline technology in 2014, a year before many of the world's governments met in Paris to establish limits on carbon dioxide emissions and other gases contributing to global warming. Read More
A true analysis of our problem, and an over-whelming list of our tax shame.
By Eric Hamm | Orlando Sentinel (Ret.)

Politicians, as I have often said, are the only people in the world who create problems and then campaign against them.

Everything on the Republican contract is a problem created by Congress. Too much bureaucracy? Blame Congress. Too many rules?

Blame Congress. Unjust tax laws? Congress wrote them. Read More
The War on Women Is About to Get a Whole Lot Worse
If you thought 2015 was bad for abortion rights, wait until you see 2016.
By Nina Liss-Schultz |

Mother Jones
Between the shooting deaths of three people at a Colorado Planned Parenthood, the Supreme Court's decision to hear its first abortion-related case in nine years, and the more than 50 new abortion restriction laws enacted by state governments, abortion access was one of the most important issues of 2015. With presidential politics and ongoing legal challenges in the states, abortion rights will continue to be under fire in 2016.

"Last year's big events, like the Planned Parenthood videos and the Supreme Court case, have actually ginned up even more interest in restricting abortion," Elizabeth Nash, a senior state issues associate at the Guttmacher Institute, tells Mother Jones. "If it was possible, they've actually added more energy to decreasing abortion access." Read More
Bill Gates: The private sector is completely inept
In a wide-ranging new interview, the world's richest man offers a searing indictment of his fellow billionaires
By Janet Allon |

AlterNet
Bill Gates, still the world's richest man after all these years,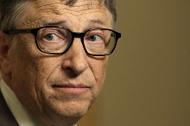 does not have a lot of faith in his fellow billionaires or even capitalism when it comes to doing the right thing. It turns out he thinks the private sector is too selfish and inept to tackle the dire climate change situation, and relying on it would be courting disaster. Better to take a quasi socialist approach and remove the profit motive altogether from this important work. Read More
This is right-wing terrorism: The frightening new rise of church and clinic arson — and why you won't hear about it on Fox News
Right-wing extremists are setting churches and clinics ablaze. It's a scary -- and vastly undercovered -- story
By Amanda Marcotte | Salon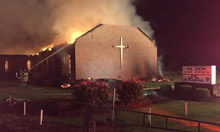 While Donald Trump is bragging about closing mosques to fight Islamic terrorism, there has been an under-reported surge of right-wing terrorism recently in the U.S.

Since July, when anti-choice crusaders released hoax videos that falsely claimed that Planned Parenthood sells fetal body parts, there has been a rash of arsons at clinics, at least one of which doesn't perform abortions. Just this week, police in New Hampshire arrested a teenager threatening a Planned Parenthood with a hatchet. After the racist church shooting in Charleston in June, itself an ugly act of domestic terrorism, there were a series of fires at black churches across the South. Read More
Staying on the Firearms Story
You can have your own opinions, but not your own facts.
By Eric Garland | Via Facebook

I think I'm staying on the firearms story because there are two parts of my identity that are stronger than any others: being a Vermonter and being a professional analyst. The first means I neither fear nor loathe guns, which are all over the Green Mountains, but the second means that I can't stand bogus arguments and lying about data. Well, that and mass murders. Those are really getting annoying, too. Read More
At the Door of the Loony Gas Building
The only way to start this story is by opening a door – the door leading into the Loony Gas building.
By Deborah Blum
The workers at the Standard Oil Refinery in New Jersey, gave the building that name,
waving goodbye to their colleagues when they entered the shadowed opening, promising to have undertakers waiting when they came out. The building was only one year old, that fall of 1924, but it had earned the nickname.

It looked harmless enough from the outside, the usual style of factory buildings on the New Jersey site, the familiar rectangle of neat red brick with narrow windows set in stone. Inside, the first impression was also of routine, noise and heat, the hiss and clank of the pipes, the grumble and clatter of the retorts. And then the unfamiliar, a smell carried by vapors rising from the machinery, not the usual odor of gasoline, but the dull musty scent of tetraethyl lead. Read More
Your Wi-Fi Network's Soft Underbelly
You probably don't even think about this easy way for hackers to sneak in.
By Josephine Wolff | Slate
You probably don't spend much time thinking about your wireless router—until it stops working, that is. Our inattention to routers has been a security problem for years, most recently last week when Brian Krebs reported that researchers at the Fujitsu Security Operations Center had discovered hundreds of routers were being used to spread a financial fraud malware called Dyre. Read More
How Supercharged Blue Heroin Ravaged This Small Town In Ohio
By Mitch Stacy | AP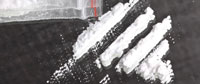 MARION, Ohio (AP) — The usual handwringing over the heroin problem turned into panic in this small city in May when a supercharged blue-tinted batch from Chicago sent more than 30 overdose victims to the hospital and two to the morgue in a 12-day stretch.

Like many places in America, Marion — an hour's drive north of the capital, Columbus — has gotten used to heroin. Emergency crews in the city of 37,000 have become accustomed to treating an overdose patient about once a day for the past year or so. But they were stunned when the unprecedented onslaught began on May 20.

They say if it hadn't been for naloxone, an antidote carried by paramedics, most of the survivors probably would have died, too. They ranged in age from their late teens to early 60s. Read More
Is Depression a Kind of Allergic Reaction?
By Caroline Williams |

The Guardian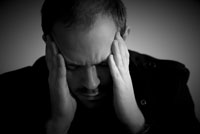 Barely a week goes by without a celebrity "opening up" about their "battle with depression". This, apparently, is a brave thing to do because, despite all efforts to get rid of the stigma around depression, it is still seen as some kind of mental and emotional weakness.
But what if was nothing of the sort? What if it was a physical illness that just happens to make people feel pretty lousy? Would that make it less of a big deal to admit to? Could it even put a final nail in the coffin of the idea that depression is all in the mind? Read More
Requiem for a Golf Course
by Fred Altvater | B9R Lessons

The Golf economy today is a mixed bag, while some areas of the golf business are very strong, other parts are suffering.

Part of the reason is that young people do not seem to be taking to the game as the older generation did. With the variety of activities available to the X and Y Generations, other sports seem to be more attractive.

A slow walk around a golf course can't compete with mountain biking or zip-lines. Read More
Fraud
A
ctivists began campaigning to change the understanding of the 2nd Amendment in the late 20th century
By Larry Laird |

l

airdslair
"

One of the greatest pieces of fraud, I repeat the

word 'fraud,' on the American public by special interest groups that I've ever seen in my life time. The real purpose of the Second was to ensure that state armies—the militias—would be maintained for the defense of the state. The very language of the Second Amendment refutes any argument that it was intended to guarantee every citizen an unfettered right to any kind of weapon he or she desires."
---- Chief Supreme Court Justice Warren Burger
Justice Burger said in no uncertain terms, before gun lobbyists and activists began campaigning to change the understanding of the 2nd Amendment in the late 20th century, nobody considered it to be an individual right.
In 2008, the right wing contingent on the most recent Supreme Court (the same people who said that corporations are people) decided to throw away centuries of juris prudence and extend the 2ndAmendment as an individual protection for gun owners' right to bear arms. During the case, United States v. Emerson, the Supreme Court decided that the 2nd Amendment is not a collective protection for gun ownership in militias, but rather a protection for individuals to own and operate weapons. This decision flies in the face of centuries of settled law and, like Citizens United v. FEC is just another case where right wing extremist wearing robes have perverted our country's longstanding understanding of our laws."