"This Is Not Normal": James Comey Responds to Trump's Jail Threat
The former FBI director warns about the president's attacks on the rule of law

.
By Noah Lanard | MotherJones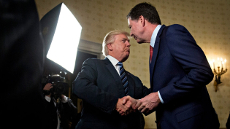 Over the course of a series of tweets sent on Sunday, President Donald Trump attacked James Comey, the FBI director he fired, as a liar and a "slimeball." One tweet suggested Comey should be in jail.

In an interview transcript released Tuesday by NPR, Comey described his reaction to the president's threat: "This is not normal."

"This is not OK," Comey continued. " There's a danger that we will become numb to it, and we will stop noticing the threats to our norms. The threats to the rule of law and the threats, most of all, to the truth." Read More

Donald Trump is an authoritarian petit-fascist who is also racist, ignorant, greedy and corrupt. He may be a traitor in cahoots with Russia, and is certainly a misogynist and serial liar who brags about sexually assaulting women. Anyone who would vote for such a person is in fact deplorable. Moreover, anyone who continues to support Donald Trump after witnessing his behavior as president is deplorable in the extreme.

- Chauncey Devega
Thanks to Trump, This Senator Finally Gets Her Chance to Decimate Alaska's Environmental Protections
An industry-friendly White House helps Sen. Lisa Murkowski score long-sought gains.
By Krista Langlois | MotherJones
This story was originally published by High Country News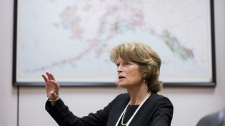 When President Donald Trump took office in January 2017, Alaska Republican Lisa Murkowski had been a member of the United States Senate for 15 years. She'd pulled off a historic write-in campaign, built a reputation as someone who thinks deeply about policy, and helped pass a sweeping bipartisan public-lands deal. But a year after gaining control over two of the Senate's most influential energy and natural resource committees, Murkowski had made little headway in her plans to develop Alaska's protected lands and waters. Read More
'Waiting is a mistake': the billionaire pushing lawmakers to impeach Trump
Tom Steyer, a prominent Democratic patron, is running an outspoken ad campaign that's got the president riled up
By Lauren Gambino | The Guardian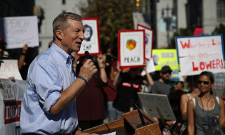 Trump's election victory approaches, a prominent donor is pressuring lawmakers and candidates on the left to make impeachment a central message of their campaigns in 2018.

In October, Tom Steyer, a billionaire hedge fund manager turned environmental activist, launched a "eight-figure" ad campaign demanding that elected officials and candidates in his party "take a stand" on removing Trump from office.

"The fact of the matter is that we believe he is dangerous to the American people now," Steyer told the Guardian. "We believe that waiting is a mistake and we believe the events that will occur over the next year will show that we are right." Read More
America's Moral Crisis
We urgently need a national conversation on our collapsing morality and how to fix it.
By Neal Gabler | Moyers & Co.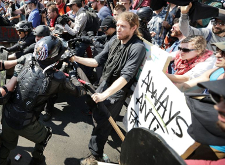 It has been another rough patch in the pothole-pocked presidency of Donald Trump, beginning with his tone-deaf remarks on the Charlottesville tragedy, in which he demonstrated, yet again, that he lacks even the barest shred of human decency; then continuing with his rant in Phoenix, in which he demonstrated, yet again, that he may very well be, in the favorite word of the day, "unhinged;" and ending with the pardon of Sheriff Joe Arpaio, whose crime was nothing less than the violation of basic constitutional rights.

You have to give the media credit for calling Trump out on each of these. But here is where many in the media get it wrong, I think. They have treated these eruptions as a Trump crisis — what The New Yorker's John Cassidy called "Trump's crisis of legitimacy" — and while there has been a lot spoken or written about the blow Charlottesville delivered to Trump's so-called moral authority, there has been very little in the media that views this as a national moral crisis, one which tests this nation no less than war or economic disaster. Google "Charlottesville" and "moral crisis" and you get exactly two direct hits — one from a blogger. Read More
Sessions Claims a Mysterious Task Force Is Behind His Most Controversial Reforms
But we don't even know who's on it.
By Pema Levyaug |
Mother Jones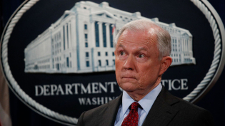 Attorney General Jeff Sessions has fallen out of favor with President Donald Trump, but that hasn't stopped him from moving quickly to reshape the federal government's approach to law enforcement. He has implemented new policies that will turn more offenses into federal crimes, confiscate suspects' property, and crack down on sanctuary jurisdictions. The policies fit Sessions' tough-on-crime attitude toward criminal justice—but he isn't taking credit for them.
Read More
Author Tom Nichols on how Trump won: "People looked up from their phones and said, 'Where's my money?'"
Author of "The Death of Expertise" on how narcissism, stupidity and the internet got us an accidental president
By Chauncey DeVega | Salon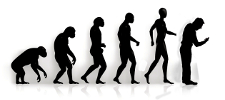 Trump's supporters appear to be in love with him. They worship him as though he were their personal road to salvation and happiness. Trump's voters were seduced by "fake news" and all too easily manipulated by Russian agents operating on the internet.

Trump's idiocracy did not blossom overnight. The seeds were planted over decades. They grew and flourished in the right-wing echo chamber provided by Fox News and other media outlets. Researchers have shown that people who consume Fox News programming actually know less about current events than people who do not watch any news programs at all. Shorter version: Fox actually makes its audience stupider. Read More
GOP Medicaid Cuts Hit Rural America Hardest, Report Finds
The new GOP-backed health bill might leave millions of Trump voters uninsured.
BY PHIL GALEWITZ | Moyers & Company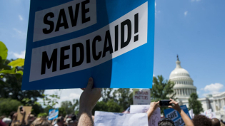 This post originally appeared at Kaiser Health News.

Rural America carried President Donald Trump to his election night upset last November.

Trump Country it may be, but rural counties and small towns also make up Medicaid Country — those parts of the nation whose low-income children and families are most dependent on the federal-state health insurance program, according to a report released Wednesday.

Medicaid's enrollment has swollen to more than 72 million in recent years, and the ranks of uninsured Americans has fallen to 9 percent in 2015 from 13 percent in 2013. That's largely due to the Affordable Care Act, which allowed states to expand Medicaid eligibility with federal funds. Thirty-one states plus the District of Columbia did so. Read More
Trump Versus China: What's Really at Stake
Truth be told, Trump voters should be pressing him, and hard, to reverse his promise to cancel the Trans-Pacific deal on day one of his presidency.
By John McLaughlin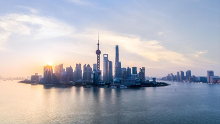 The author, deputy director and acting director of the CIA from 2000 to 2004 teaches at the Johns Hopkins School of Advanced International Studies.

The economy of Asia is likely to drive the 21st century. Leaders of most nations would believe the United States should maintain and even expand its role there. And yet, the U.S. runs a very high risk of doing exactly the opposite — turning away from the region and ceding its leadership in Asia. Read More
What is Humility?
A easily misunderstood human quality that seems to have gone missing in our modern times. How to make it part of your life once again.
By Larry Laird - lairdslair.com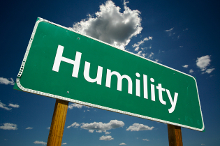 I attend a small evangelical Lutheran church in Marion, Ohio called St. Paul's and have for over 60 years. I took my catechism there and was confirmed in this little church. On occasion, our pastor takes a much needed vacation and since we have no assistant pastor he calls on members of the congregation to lead a service in his absence. I have done so a couple of times in the past two years. What follows is the message I delivered on a Sunday in late August, 2016.

What exactly is humility?

The dictionary defines it this way -

Humility is the quality of being humble. In a religious context this can mean a recognition of self in relation to God or deities, acceptance of one's defects, and submission to divine grace as a member of a religion. Outside of a religious context, humility is defined as the self-restraint from excessive vanity, and can possess moral and/or ethical dimensions.

The Urban Dictionary puts it this way, in a more plain speaking Will Rogers manner

Humility is an admirable quality that not many people possess. It means that a person may have accomplished a lot, or be a lot but doesn't feel it is necessary to advertise or brag about it.

Are you a humble person? How can you know? Read More
Making a Killing
The business and politics of selling guns. How Fear Helps the Gun Business.
By Evan Osnos | The New Yorker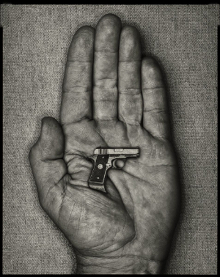 Bars in the Old City neighborhood of Philadelphia let out at 2 A.M. On the morning of January 17, 2010, two groups emerged, looking for taxis. At the corner of Market and Third Street, they started yelling at each other. On one side was Edward DiDonato, who had recently begun work at an insurance company, having graduated from Villanova University, where he was a captain of the lacrosse team. On the other was Gerald Ung, a third-year law student at Temple, who wrote poetry in his spare time and had worked as a technology consultant for Freddie Mac. Both men had grown up in prosperous suburbs: DiDonato in Blue Bell, Pennsylvania, outside Philadelphia; Ung in Reston, Virginia, near Washington, D.C.

Everyone had been drinking, and neither side could subsequently remember how the disagreement started; one of DiDonato's friends may have kicked in the direction of one of Ung's friends, and Ung may have mocked someone's hair. "To this day, I have no idea why this happened," Joy Keh, a photographer who was one of Ung's friends at the scene, said later. Read More
How Do You Spot A Nonconformist?
You Can Start With Their Internet Browser!
By NPR | www.npr.org

In 2009, one of the founders of the online eyeglass maker Warby Parker approached management consultant Adam Grant about becoming an early investor. Grant says he declined because the company's founders weren't working at their startup full time; he also says it was the worst financial decision he's ever made. Read More
There May Soon Be More Plastic in the Oceans Than Fish
The environmental impact of plastic waste is already staggering and getting much worse
By Gregory Barber | MotherJones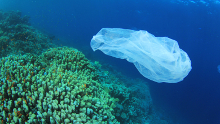 Discarded plastic will outweigh fish in the world's oceans by 2050, according to a report from the Ellen MacArthur Foundation. That is, unless overfishing moves the date up sooner.

The study, a collaboration with the World Economic Forum, found that 32 percent of plastic packaging escapes waste collection systems, gets into waterways, and is eventually deposited in the oceans. That percentage is expected to increase in coming years, given that the fastest growth in plastic production is expected to occur in "high leakage" markets—developing countries where sanitation systems are often unreliable. The data used in the report comes from a review of more than 200 studies and interviews with 180 experts. Read More
Getting to the Heart of David Letterman
The beloved king of comedy—and part time Montana resident—talks about growing up and getting older.
By Brian Schott | The Whitefish Review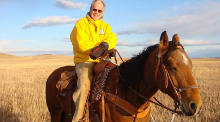 As of his final Late Show this past May, David Letterman had hosted 19,932 guest appearances on 6,028 broadcasts across more than 33 years—and redefined late-night and humor itself along the way. The man had earned some peace and quiet. Judging from the searching, thoughtful interview he granted to the Whitefish Review, he has found both—thanks, in large part, to life on his ranch in northwest Montana.

In an interview with Jane Pauley prior to his retirement, Letterman talked about the "white-hot adrenaline" he'd felt on his early appearances on The Tonight Show with Johnny Carson: "It's like you're sitting on the knee of the Lincoln Memorial and Lincoln is talking to you. You know, it's like, 'Holy God, it's the guy on the $5 bill talking to me.'" That's about what it feels like to interview David Letterman. Read More
How Supercharged Blue Heroin Ravaged This Small Town In Ohio
By Mitch Stacy | AP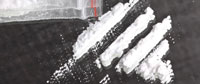 MARION, Ohio (AP) — The usual handwringing over the heroin problem turned into panic in this small city in May when a supercharged blue-tinted batch from Chicago sent more than 30 overdose victims to the hospital and two to the morgue in a 12-day stretch.

Like many places in America, Marion — an hour's drive north of the capital, Columbus — has gotten used to heroin. Emergency crews in the city of 37,000 have become accustomed to treating an overdose patient about once a day for the past year or so. But they were stunned when the unprecedented onslaught began on May 20.

They say if it hadn't been for naloxone, an antidote carried by paramedics, most of the survivors probably would have died, too. They ranged in age from their late teens to early 60s. Read More
Jesus wept: How can you call yourself a Christian if you voted for Donald Trump?
Christian faith means many things to many people. But I'm confused about how "love thy neighbor" led us here
By Lily Burana | Salon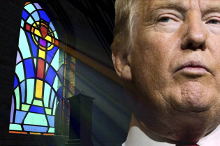 One of the hallmarks of Christian faith is charity, which is unfortunate for me, because, as a cradle Christian (and, lately, a recovering agnostic), I've been feeling less than charitable since Donald Trump won the presidential election.

I don't mean that I'm not in the spirit of giving to charities — I'll be writing out a whopper of a check to the American Civil Liberties Union presently. Read More
Is Depression a Kind of Allergic Reaction?
By Caroline Williams |

The Guardian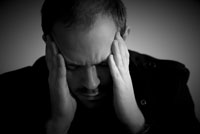 Barely a week goes by without a celebrity "opening up" about their "battle with depression". This, apparently, is a brave thing to do because, despite all efforts to get rid of the stigma around depression, it is still seen as some kind of mental and emotional weakness.
But what if was nothing of the sort? What if it was a physical illness that just happens to make people feel pretty lousy? Would that make it less of a big deal to admit to? Could it even put a final nail in the coffin of the idea that depression is all in the mind? Read More
Fraud
A
ctivists began campaigning to change the understanding of the 2nd Amendment in the late 20th century
By Larry Laird |

l

airdslair
"

One of the greatest pieces of fraud, I repeat the

word 'fraud,' on the American public by special interest groups that I've ever seen in my life time. The real purpose of the Second was to ensure that state armies—the militias—would be maintained for the defense of the state. The very language of the Second Amendment refutes any argument that it was intended to guarantee every citizen an unfettered right to any kind of weapon he or she desires."
---- Chief Supreme Court Justice Warren Burger
Justice Burger said in no uncertain terms, before gun lobbyists and activists began campaigning to change the understanding of the 2nd Amendment in the late 20th century, nobody considered it to be an individual right.
In 2008, the right wing contingent on the most recent Supreme Court (the same people who said that corporations are people) decided to throw away centuries of juris prudence and extend the 2ndAmendment as an individual protection for gun owners' right to bear arms. During the case, United States v. Emerson, the Supreme Court decided that the 2nd Amendment is not a collective protection for gun ownership in militias, but rather a protection for individuals to own and operate weapons. This decision flies in the face of centuries of settled law and, like Citizens United v. FEC is just another case where right wing extremist wearing robes have perverted our country's longstanding understanding of our laws."

One man alone can be pretty dumb sometimes, but for real bona fide stupidity nothing beats teamwork.
- Mark Twain

Lead, follow or get out of the way.
-
Thomas Paine
Top of Page
The Great Lakes Are Filling Up With Giant Green Blobs
Industrial agriculture fuels them, and new science shows that they emit way more greenhouse gas than previously thought.
By Tom Philpott | MotherJones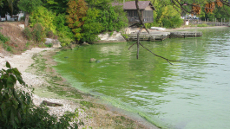 Every summer, a massive green-algae blob colonizes western Lake Erie. Last year's bloom ranked among the biggest ever, blanketing 700 square miles—an area 1.5 times bigger than Los Angeles. The shoreline of Toledo, Ohio, "smelled like a sewer," according to one reporter.

These fetid growths appear on lakes throughout the country and world. They're known as "harmful algal blooms" because they generate toxins called microcystins, which when ingested cause nausea, vomiting, diarrhea, severe headaches, fever, and liver damage. "Pets and livestock have died from drinking water contaminated with microcystins," the US Environmental Protection Agency reports. In the summer of 2014, the city of Toledo, which draws its water from the western end of Erie, had to warn residents not to drink or even bathe in tap water for days after it became tainted with microcystins. (The city has launched a $500 million project to upgrade its water-filtration system, partially in response to the microcystin threat.) Read More
New Study: Eat Your Strawberries Before Climate Change Wipes Them Out
Avocados, almonds, peaches, and many other California crops are also threatened.
By Tom Philpott | MotherJones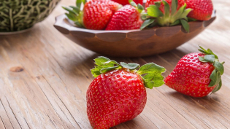 With its year-round sunshine and vast tracts of fertile land, California is one of the jewels of US food production, providing a third of the nation's vegetables and two-thirds of our fruits and nuts. As the climate warms, can we continue to take this $50.5 billion bounty for granted?

That's the question posed by a team of University of California researchers in an eye-opening new paper published in the journal Agronomy, in which they digest recent research to "document the most current understanding on California's climate change trends in terms of temperature, precipitation, snowpack, and extreme events such as heat waves, drought, and flooding, and their relative impacts" on the state's agriculture.

They address these topics one by one, and the results are hardly comforting to US eaters. Read More
A Trump-Appointed Coal Lobbyist Is Inching Closer to Drastically Remaking the EPA
Andrew Wheeler's approval would be a testament to how extreme other nominees have been.
By Alexander C. Kaufman | MotherJones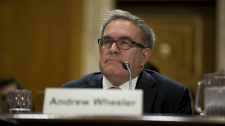 Andrew Wheeler, President Donald Trump's nominee to be Environmental Protection Agency deputy administrator, appeared poised and polished at his Senate confirmation hearing in November. He couched his objections to widely accepted climate science in ambiguous legalese, and kept his cool when, at the same hearing, Kathleen Hartnett-White, the president's pick for the Council on Environmental Quality, flamed out, stammering over questions of basic science.

On Saturday, the White House announced plans to pull Hartnett-White's nomination amid waning Republican support. But Wheeler is inching closer to the EPA's No. 2 job, and the Senate Environment and Public Works Committee is expected to advance his nomination in a vote on Wednesday. Read More
Sean Hannity Is Now a Favorite Weapon of Russian Trolls Attacking America
Kremlin propagandists are piling on the Fox News war against the Mueller investigation.
By Denise Clifton | MotherJones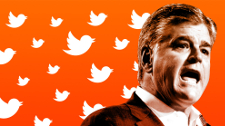 Soon after Donald Trump's former national security adviser Michael Flynn agreed to a plea deal with special counsel Robert Mueller on Dec. 1, Kremlin-linked trolls began ramping up their social-media attacks on the Russia investigation. They tweeted out dozens of articles from Fox News and far-right outlets aimed at undermining the credibility of the FBI, Department of Justice, and the so-called "deep state." And Putin's trolls would soon have a new vein of material to exploit.

As Christmas approached, a drumbeat against the FBI grew louder in certain quarters of Congress: GOP Rep. Jim Jordan led the attack, claiming on Fox News that the FBI had conspired against Trump's 2016 campaign. President Trump himself launched broadsides against FBI Deputy Director Andrew McCabe and "leakin' James Comey." And on Dec. 20, Fox News star Sean Hannity tweeted "CONSPIRACY: GOP Lawmakers Says FEDERAL CONSPIRACY to Prevent Trump Presidency." Read More
One Year Later: The Political Cancer Metastasizes
America was never what it had purported to be.
By Neal Gabler | Moyers & Co.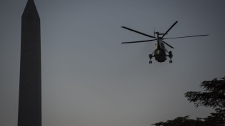 Exactly one day short of one year after the election of Donald Trump, the fog finally seemed to lift and the skies brightened. On Tuesday, voters rejected Trumpism in New Jersey and in Virginia, where establishment Republican Ed Gillespie embraced Trump's racism and nativism, indicating how deeply the president's poison has penetrated even the precincts of the party that should be vigorously in opposition to it.

In Maine, voters approved an expansion of Medicaid that their right-wing governor had rejected several times. In Washington state, Democrats won the upper house of the legislature. Meanwhile, GOP members of Congress are deserting the ship, one by one. As Steve Bannon marshals his "alt-right" forces to defeat mainstream Republicans, his primary candidates may be so far off the political spectrum next year that they could derail the Republicans' Senate hopes. Across the board, Democratic prospects in 2018 look promising, if the Democrats don't manage to screw things up, which is a very big if. Read More
Gun control and history: It's never been about the Second Amendment
Pro-gun advocates are using the ambiguous language of the Constitution to mask a right-wing agenda
By MATTHEW ROZSA | Salon
In a 2016 infomercial recently unearthed by NBC's Chuck Todd, President Donald Trump's eldest son can be seen testing out a silencer on several guns, then waxing poetic about the importance of the Second Amendment.

"I mean, the Second Amendment for us, for me, it's not just a passion and a hobby that I do every weekend. I mean, it's a lifestyle. It's the thing that our Founding Fathers thought of right after free speech and religion," Donald Trump Jr. solemnly intoned. Read More
"We Just Feel Like We Don't Belong Here Anymore"
Think it's hard for the white working class in rural America? Try being a person of color.
By Becca Andrewsaug |
Mother Jones
Over the weekend, Charlottesville, Virginia, exploded in violence over the impending removal of a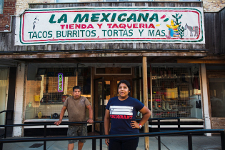 Confederate monument. White nationalists, Ku Klux Klan members, and neo-Nazis clashed with counter-protesters, and the fighting reached a horrifying crescendo when a white nationalist drove his car into the crowd, injuring 19 people and killing one.
It's no small wonder that tensions have escalated to a dangerous point. After Dylann Roof brought a gun into an African American church in Charleston and killed nine parishioners, a familiar debate in the South around Confederate symbolism resurfaced, and it was clear the ghosts that haunt the South from even before the Civil War were far from exorcised. As a presidential candidate, Donald Trump saw opportunity in a disillusioned white working class and a tension that had been simmering below the surface for decades, and he took full advantage.
Read More
Martin Luther's Revolution
The Reformation did a lot more than transform Christianity.
BY ELIZABETH BRUENIG | Moyers and Co.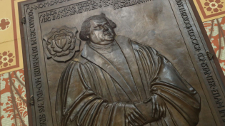 Theology is morality is politics is law — and whether or not it's immediately obvious, the world is steeped in theology. In contemporary America, and especially in the more secular precincts of Western Europe, it seems unlikely that one could look at a property deed or a government budget and find, just beneath its explicit reasoning, traces of old theological disputes and their resolutions. But they're there, and examining them offers a view of what might have been, had history — in particular, the Protestant Reformation, ignited 500 years ago this October by a German monk named Martin Luther — unfolded differently. Read More
America has never seen a party less caring than 21st-century Republicans
We pay our elected officials to take care of our communities and our planet. Since Trump took office, the GOP has set out only to destroy
By Lindy West |

T

he Guardian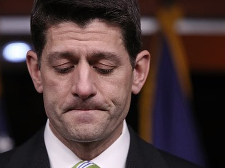 Last week I was taking an Uber (I know, I'm sorry, it was a necessity) across an unfamiliar town when the driver, whom I'll call Randy, started telling me about this cool dude named Jesus. Randy's big opener, earlier in the ride, was to gesture at a homeless man panhandling by the side of the road and say: "Isn't it terrible?"

"Yeah," I agreed, though I was unsure whether he was referring to homelessness as a blight or a form of state violence. "I can't believe my tax money pays for the president's golf vacations while people are freezing to death on the street. It's robbery."

"True that," he said, to my relief. "I hope this crazy country gets itself figured out before things get worse."

"Me too," I said. "I would really like to keep living."

"Yeah?" Randy pounced. "How would you like to live … forever?" Read More
Maybe This Is How Democracy Ends
The frightening rise of authoritarian populism in the West is a very real, clear and present danger.
By Mike Lofgren | Moyers & Co.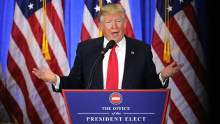 The election of Donald Trump has triggered as much wonderment abroad as it has in the United States. David Runciman, a professor of politics at the University of Cambridge, has written in the London Review of Books a provocative reflection on the nature of democracy in the age of Trump: "Is this how democracy ends?" There is much to praise in his essay, including his heavy qualification that we really don't know for sure if what we are seeing is the end phase of mature Western democracies since we do not have the appropriate historical precedents to be certain. Read More
Democrats Must Become the Party of Freedom
Re-embracing anti-monopoly will reinvigorate American liberty and beat back Trumpism.
By Barry C. Lynn | Moyers and Company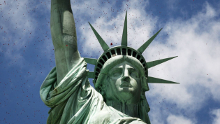 This post originally appeared at Washington Monthly.

There are many competing interpretations for why Hillary Clinton lost last fall's election, but most observers do agree that one — economics — played a big role. Clinton simply didn't articulate a vision compelling enough to compete with Donald Trump's rousing, if dubious, message that bad trade deals and illegal immigration explain the downward mobility of so many Americans.

As it happens, Clinton did have the germ of exactly such an idea — if you knew where to look. In an October 2015 op-ed, she wrote that "large corporations are concentrating control over markets" and "using their power to raise prices, limit choices for consumers, lower wages for workers and hold back competition from startups and small businesses. It's no wonder Americans feel the deck is stacked for those at the top." In a speech in Toledo this past October, Clinton assailed "old-fashioned monopolies" and vowed to appoint "tough" enforcers "so the big don't keep getting bigger and bigger." Read More
Staying on the Firearms Story
You can have your own opinions, but not your own facts.
By Eric Garland | Via Facebook

I think I'm staying on the firearms story because there are two parts of my identity that are stronger than any others: being a Vermonter and being a professional analyst. The first means I neither fear nor loathe guns, which are all over the Green Mountains, but the second means that I can't stand bogus arguments and lying about data. Well, that and mass murders. Those are really getting annoying, too. Read More
Your Wi-Fi Network's Soft Underbelly
You probably don't even think about this easy way for hackers to sneak in.
By Josephine Wolff | Slate
You probably don't spend much time thinking about your wireless router—until it stops working, that is. Our inattention to routers has been a security problem for years, most recently last week when Brian Krebs reported that researchers at the Fujitsu Security Operations Center had discovered hundreds of routers were being used to spread a financial fraud malware called Dyre. Read More
Requiem for a Golf Course
by Fred Altvater | B9R Lessons

The Golf economy today is a mixed bag, while some areas of the golf business are very strong, other parts are suffering.

Part of the reason is that young people do not seem to be taking to the game as the older generation did. With the variety of activities available to the X and Y Generations, other sports seem to be more attractive.

A slow walk around a golf course can't compete with mountain biking or zip-lines. Read More